How To Make Sausage at Home, A Step-by-Step Guide
So many people are looking to make sausage at home, but they don't know what they need to get started. Making your own sausage is a great way to provide a healthy food option in an affordable fashion. There are so many variables to sausage-making, it is hard to cover all the options, so for the purpose of this article, we will keep it basic.
Meat Selection
Decide on the meat block selection that your sausage will be made up of (wild game, pork, beef, lamb or any combination). Whichever you decide, plan for 70-80% of the meat block with the remaining 20-30% being pork trim.
NOTE: There are basically two types of Pork trim. Regular Trim is about 60:40 meat to fat. Lean Trim is about 80:20 meat to fat ratio. Both can be purchased from your local butcher. Remember to order early, as many other sausage enthusiasts try to get supplies at the same time.  
The right ratio of fat to lean meat in your meat mixture is key to preventing a dry, crumbly sausage that lacks flavour. Click here to read more about meat mixtures and how water is an essential ingredient for creating the perfect "sausage batter". If you're new to using a meat grinder, click here for a meat grinding "how-to" that will ensure you've got the right size plates and methodology for the meat you are working with.
Preparation & Necessary Equipment
Next, make sure you have the necessary supplies to complete the job. Typically, in addition to your meat, you will need:
Large counter or cutting table
Ice water
Scale (larger one for weighing meat and possibly smaller one for weighing spices)
A  recipe and ingredients (from High Caliber, of course!), including  any recommended additives
All of the usual kitchen supplies (knives, cutting boards, thermometer, bowls, aprons, latex gloves)
If you're doing a large batch, we recommend having a buddy
Packaging for your creations (butcher paper, tape or vacuum bags)
Click here for a free download of High Caliber's Sausage-Making Supply Checklist.
Food Safety
When processing and handling meat it's important to keep health top of mind. One of the main messages you will hear the professionals at High Caliber share during a sausage-making class is regarding temperature.
We cannot stress enough the importance of the three C's: Cold, Clean and Covered.
Learn about sanitation, internal cooking temperatures and more at the  Alberta Agriculture Food Safety site.
Flavour & Recipes
Ok, so now you have your sausage-making supplies, your meat selection, a refresher on the importance of sanitization… let's pick a flavour! There are many recipe books and homemade blends available, but for first-time sausage makers we have taken a lot of the guesswork out of the equation. Click here for an overview of High Caliber pre-packaged blends, flavours range from pleasant  Mild Italian to the spicier Andouille to a Gluten-Free Wild Game recipe. We have all of the popular sausage profiles on hand with downloadable recipe cards to walk you through the full process.
As an added bonus,  access our free online Spice Calculator here to ensure your calculations of spice, water and cure (if needed) are the correct measurements for your meat block. If you prefer to work with fresh spices, we've got you covered too. Attendees at our sausage-making classes love to experiment, here is an exclusive tasty recipe developed in the kitchen at High Caliber – you might just have all ingredients already in your pantry!
While mixing your meat and other ingredients, the temperature can be controlled by the addition of ice-cold water. The water temperature is achieved by placing ice cubes in the water, and then straining the ice off just prior to use. We want to eliminate any ice in the batter as these will create "pockets" inside the sausage after the cubes thaw, providing a place for fat and water to escape. Mixing is very important for proper extraction, click here for a more in-depth look at how to mix for proper extraction and why it is so important to the success of your finished sausage.
Casing & Stuffing
Before you start, choose the type of casing needed for your sausage. Whether you would like to make fresh Italian sausage, an old-fashioned wiener or a smokie for the BBQ, we carry the sausage casing you need. With a wide selection of Natural Casings, Collagen Casings, Fibrous Casings or Cooking Casings, High Caliber Products has you, or better yet, your flavourful meat creation, covered! Click here to learn more about choosing the right sausage casing for your masterpiece.
For the hobbyist sausage-maker, one of the most important tools to invest in is a sausage stuffer. We have a selection of sausage stuffers to suit a range of sausage-makers from the once-a-year hunter to the more enthusiastic hot doggers in the crowd. Make short work of your wurst, frankfurters, pepperoni and kielbasa and don't forget to match your tube size to your casing size. Proper stuffing affects your overall presentation, so you want to get this right. Click here for tips and tricks on preventing air pockets in your homemade sausage.
Fresh or Smoked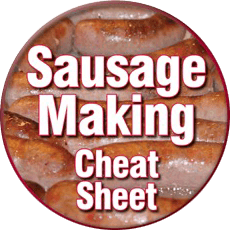 Speaking of fresh or smoked sausage, much of the process and equipment required will apply to either type with a few key differences. A smoked sausage will require that you use some sort of "cure" and has the added step of smoking once the sausage has been formed. Click here for a free download outlining the steps to making Fresh Sausage versus Smoked Sausage and refer to the page that applies to your process.
For newbies, we tend to recommend starting with Fresh Sausage. The great thing with fresh is you can literally fry up a batch as you're working to taste test and adjust if necessary. A tip from the pros though, don't overcompensate on spices based on this taste test. Profiles can take time to fully mature.
Troubleshooting & Extras
Here are some links to additional information, little tips and tricks that will help you perfect your creations over time…