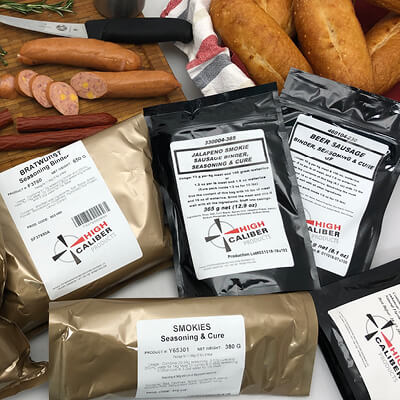 Sausage Blends
Sausage Seasoning & Spices for Sale in Canada
Sugar and spice and everything nice, that's us! Freshly sealed into one airtight bag and ready to go, our custom High Caliber Sausage Seasoning Mix creations are a blend of seasonings, pure spices and the additives you need for preservation to ensure great results every time.
Our Bratwurst sausage seasoning mix is earthy and well balanced with hints of white pepper, mace and caraway; this sausage does not need anything else to improve its savoury flavour! Enjoy on a crusty bun with sauerkraut, of course! Our Breakfast Sausage Seasoning Blend is our most popular and is equally good in links or patties. And what line of sausage spices and seasonings is complete without an Octoberfest blend? We've created a simple, well-rounded blend that is tasty anytime of the year.
Click here to check out our Sausage Making Recipe Cards that are a great resource for many of our top selling blends like Mild Italian, Maple and Chorizo. Ideal for pork sausage, our spice blends are also popular with hunters that like to add wild meat to the mix. Just follow the recipe card directions for the meat combination of your choice. We carry Gluten Free options of many sausage spice and seasoning blends, just look for "GF" on the label.
In addition to Fresh and Smoked Sausage and Wieners, seasoning blends are offered for:
more...
Headcheese and Cold Cuts
Corned Beef and Pastrami
Salami and Summer Sausage
If you are new to sausage making, we encourage you to drop us a line at 1-877-736-7287. Our knowledgeable staff can offer tips, tricks and suggestions. Or better yet, visit us in store at one of our handy dandy locations in Edmonton or Calgary, or sign up for one of our popular Sausage Making Classes! Click here to add your name to our newsletter list and be among the first to know when new dates are released.

less...