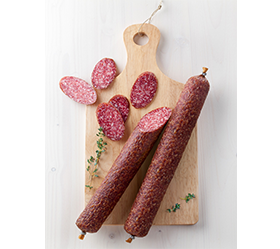 Fibrous Casing
Fibrous Sausage Casings for Sale in Canada
Considered "artificial" or "synthetic", Fibrous Sausage Casings are inedible and are made from wood cellulose (essentially paper) permeated with protein. The most durable casings produced, Fibrous Casings are used where maximum uniformity of the finished product diameter is required. The strength and durability of this casing allows you to stuff it as full and tight as you like without worrying about tears.
Popular with hunters and DIY sausage-makers, the porous quality of Fibrous Sausage Casing is great for smoking and are easy to store as they do not require refrigeration. Just don't forget to peel 'em off before you chow down!
We carry a range of Novatone Fibrous Casing, from 55-90 millimetre in 12 and 24 inch lengths. We also have carry 43 mm Smoketone Round Coil Casing for those yummy (dare we say garlic?) creations!
Fibrous Sausage Casings are ideal for:
more...
Summer Sausage
Salami
Bologna
Pepperoni
Garlic Coil
Other Cured Sausage
Notes for optimum performance with Fibrous Casings:
Soak casing in warm water for minimum 15 minutes prior to use.
Tie off casing with butcher twine or crimp with pliers. Or to make it even easier, try our pre-tied loops.
Store unused fibrous casings in a cool dry area.
However, if you or the master chef in your family prefers edible casings for your sausage specialties, check out our natural casing and collagen casing options.
We pride ourselves on being your local Calgary, Edmonton and surrounding areas sausage-making experts, so feel free to contact us anytime, we are always happy to talk shop. We even offer Sausage Making Classes, but be advised, they fill up fast. Click here to sign up for our newsletter and always be the first to know when new dates are released. Otherwise, like us on Facebook or check our site regularly, we are always posting new tip sheets like our popular Sausage Making Cheat Sheet and adding articles to our blog, like "Alternative Twist Method".

less...