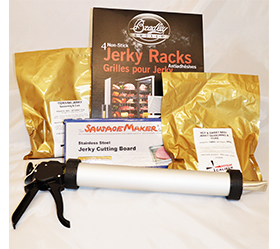 Jerky Making
Jerky Making Equipment & Supplies for Sale in Canada
Jerky, to-furkey, turkey jerky – it's all good! As easy on the taste buds as it is on the waistline, no wonder jerky (in all its forms!) is so popular. If you like quality eats without the high price tag, you're likely looking to make your own jerky and you will need a full complement of jerky making supplies to do it. Dehydrated or smoked, wild game or beef, strips or ground, sweet or savour; the combinations are limited only by your imagination (or hunting skills… pork it is!).
Basically, if you're making jerky you have come to the right place to get the job done. Old pros love our unique High Caliber jerky making equipment selection, a complete product line of quality supplies and delight in the handy gadgets, like jerky shooters, we source to make easy work of the job. Newbies appreciate the friendly and knowledgeable staff.
Jerky Shooters, Grates and Cutting Boards, Jerky Spice Blends and more! Looking for the big stuff? We have that too! View our selection of jerky making supplies such as Grinders, Mixers and Slicers, as well as smokers, Sawdust and Accessories. We carry a wide range of quality manual and electric jerky making equipment.
Must have equipment for jerky making include