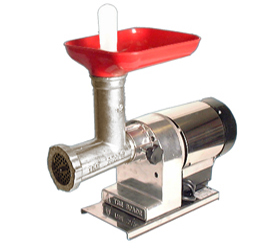 Meat Grinders
Meat Grinders for Sale in Canada
High Caliber's line of meat grinders brings new meaning to the phrase "back to the grind". Typically associated with dull, monotonous labour, getting back to the grind has never been more fun! Who doesn't enjoy firing up the meat grinder and watching it perform it's magic? OK, well maybe we're getting a little carried away, but seriously, if you're a meat mincing enthusiast like us, you totally get where we're coming from. You appreciate a workhorse that can get the work done quickly, and we've got the meat grinder for you!
Perfect for butchers and hunters looking for speed and reliability, most of the meat grinder models we carry come complete with a metal feed tray and plastic stomper, which are easy to clean. Looking for more power? Electric meat grinders are perfect for the hunter grinding game at home offering quality at an economical price.
Common Tips for choosing a plate size to use with your meat grinder:
more...
Fine grind (3/32″ & 1/8") – Bologna, Franks
Medium grind (5/32″ & 3/16") – Breakfast Sausage, Hamburger, Polish & Italian Sausage
Coarse grind (1/4" & 5/16") – Pepperoni, Salami, Summer Sausage & Bratwurst
Coarse grind (3/8") – Often recommended for the first grind. Chili meat & Chorizo
Very Coarse (1/2") – First grind. Stew meat & Vegetables
Very Coarse (3/4") – First grind. Chunking meat
Related products you may need:
Cleaning Brushes. Ideal brushes to clean meat grinders are nylon brushes that can clean stuffing tubes and every grinder plate in your collection. The bristles collapse to fit inside even the smallest holes and push out any meat leftover from processing.
Spices, Cures & Additives. Whether you are making a trusted traditional recipe or a new creation, we have a tasty selection of pre-blended sausage seasonings, pure spices and additives to ensure great results.
Meat Lug Containers and Dollies. Carts, lugs and lids – we have the container you need and the quality you require.

Grinder Plates, Knives and Stompers. We have a stock of replacement parts for your meat grinder so come back and visit us when you are looking to update parts.

Stuffer Tubes. From stainless-steel stuffer tubes to plastic stuffer tubes, find the right stuffer tube for your meat grinder.

Mineral Oil. For lubrication of meat grinder, plates and knives. Proper maintenance of your meat grinder extends its longevity.

Cutting Tools. A varied selection of butcher knives, boning knives, knife sharpeners, cutting boards, knife holders and more.
Meat Packaging. Ensure you are storing your products with the most effective materials, including ground beef bags, vacuum sealing machines, butcher paper and more, so they stay fresh longer.
Have questions? Call us and place your order over the phone! High Caliber's knowledgeable, friendly staff is just a phone call away, toll free at 1-877-736-7287. Or visit our showroom in Calgary or Edmonton to compare products

less...