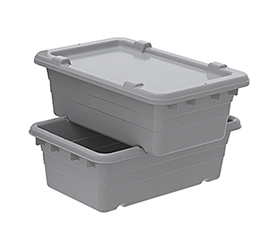 Containers & Dollies
Meat Lug Containers & Dollies for Sale in Canada
For most of you "Meat Lug" is likely an endearing term commonly used to describe your best hunting bud, but guess what, it's also a handy container that works like a charm for the home processor or commercial butcher alike. Who knew!?
High Caliber not only offers an impressive line of spices, blends and quality sausage making equipment, we also carry all of the peripheral items you need to make easy work of your processing. Dollies and carts, meat lugs and lids – we have the meat storage units you need and the quality and size selection you require.
Our meat lug containers, totes and carts are designed for commercial use. They are durable, easy to stack and most of all, easy to clean!
Why use a Meat Lug Container?
more...
Heavy duty meat lugs will not crack or break when stored in the freezer
A smooth interior makes for easy cleaning which is crucial to maintaining a sterile, safe process
Large capacity makes a meat lug ideal for handling and mixing meat when processing large batches (i.e. sausage or burger patty making)
The reinforced lids are heavy duty and make for easy stacking (Please note that the meat lug lids do not provide an air tight seal)
BPA free, FDA sanctioned materials
Nests when empty to conserve space
Convenient for inventory rotation and portioning
Other items you may need:
3 Tier Bus Cart – easily move three lugs of meat around your processing plant.
Meat Lug Container Lids – makes for easy stacking!
Spice Blends – our unique line of sausage blends can take the guesswork out of sausage making.
Meat Mixer – still mixing by hand? Take the grunt work out of processing and upgrade to a mixer, we promise, you won't regret it!
Sausage Stuffer – we have quality units for every price point.
New to sausage making? Check out our website for tons of tips, tricks and tools of the trade. Featuring sausage making recipe cards, unique sausage blends and sausage making gift kits we are definitely Alberta's source for one stop shopping when it comes to butcher and hunter supplies.
Visit us at one of our locations in Edmonton or Calgary or give our sausage enthusiasts a call and order over the phone! During store hours reach us at 1-877-736-7287.

less...