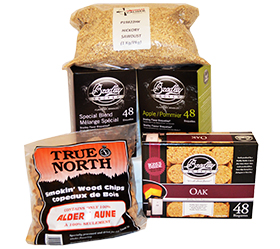 Sawdust, Chips & Bisquettes
Smoking Sawdust, Bisquettes & Smoker Wood Chips for Sale in Canada
Smoker chips, pucks, pellets, dust – whatever your wood chip, however your wood chuck chucks, we've got the fuel for you! Apple, Cherry, Hickory, Mesquite, Maple and more, play with flavour by changing or mixing your sawdust or bisquette and add a new dimension to your old pastime.
We carry Bradley, True North and our own unique High Caliber products to ensure you have the best selection for your next custom creation.
Where there is smoke there's fire and sometimes we can get a bit carried away. Maybe you've had your smoker for a while and so far it's been a crap shoot. How can you go wrong with smoke, right? You still don't know why that last meal was not so popular with the kids, or the wife, or the neighbours…
Here are some tips for working with smoke flavours for perfect meat pairings.
more...
Beef & Pork. Old standby's, these cuts of meat will pair with pretty much any smoke chip flavour you can dream up. Wanting to make your own unique smoke blend? Pair apple chips with another wood type, they work well in pairings.
Big Bird (aka Poultry). Another type of meat that will work with almost any flavour on the smoker, just careful with mesquite, it tends to overpower on delicate meats.
Salmon. Seafood can pair nicely with an apple or cherry flavoured smoker chip, but we like Alder, a hardwood with a slightly sweet flavour.
Wild Game. Steer clear of the fruity flavours. We recommend a hickory or mesquite. Remember with mesquite though, a good rule of thumb is to use it like you'd use chilli peppers – in moderation and in combination with other flavours.
And don't forget….
You can always use a liquid or powdered smoke flavor to achieve a smoked effect. Be careful to add only the amount recommended
Always use a digital thermometer with an alarm to measure the temperature of your smoked sausage.
Smoke isn't just adding flavour to your meat, it's adding hue. For example, Cherry smoking chips can add a rosy appearance to light coloured meat.
Smokers unite! Come in to our Calgary or Edmonton locations, give us a call, send up a smoke signal, attend a class or sign up for our newsletter and follow us on Facebook. We're a local community of jerky making, sausage-eating maybe the odd beer-drinking enthusiasts alike.

less...