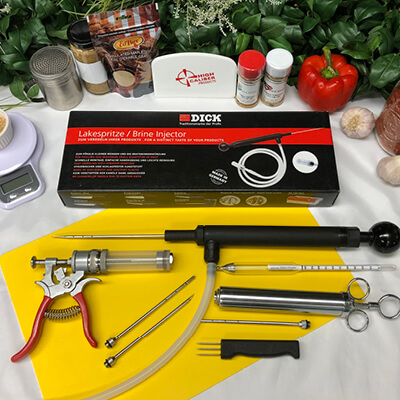 Tables, Brine Pumps & Injectors
Tables, Brine Pumps & Injectors
We have everything you need, often before you even know you need it!
Brine Hydrometer Testers, Dial-o-matic Injector Guns, scrapers, prickers and more – handy gadgets for serious processors.
What is Brine? 
Brine is injected into various meat products for several reasons including the following:
– to replace moisture/water weight lost during cooking; 
– to improve tenderness; and, 
– to increase the product yield.   
Injection of the brine is performed before cooking.To make your own brine cure, it is best to follow a set recipe or use a pre-portioned unit.  A curing brine may include salt, sugar, sodium nitrite and flavour. It is important to add the right amount of dry ingredients to ensure the final product has the right flavour (salt is not too high or low) and that the amount of sodium nitrite is within legal limits. 
Not sure what you need? Ask us! Our knowledgeable staff is just a phone call away, Toll free: 1-877-736-7287.