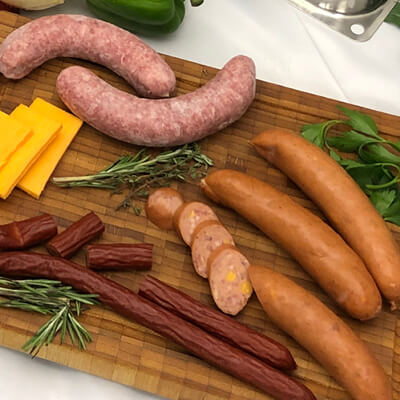 Sausage Casing
Sausage Casings & Skins for Sale in Canada
Whether you would like to make a fresh Italian sausage, an old-fashioned wiener or a smokie for the BBQ, we carry the sausage casing you need. With a wide selection of Natural Casings, Collagen Casings, Fibrous Casings or Cooking Casings, High Caliber Products has you, or better yet, your flavourful meat creation, covered!
The Right Sausage Casing for Your Masterpiece
more...
If you're new to the art of sausage making, you might be wondering how to choose the right sausage casing for the job at hand. Let's go over the options:
Natural Casing:
Three main types include hog, sheep and beef. A natural casing tends to deliver the best flavor in the final product as it enhances and complements natural juices and qualities of the meat and spices. Natural Casing allows for deep smoke penetration.
Collagen Casing:
Is a complete solution for many sausage-making procedures including fresh and smoked methods. It freezes well and cooks up nice whether it's deep fried, grilled or popped in the oven.
Fibrous Casing:
Most commonly defined by its inedible quality, fibrous casings are made from wood cellulose (paper) permeated with protein. The most durable of casings, used where maximum uniformity of the finished product diameter is required.
Cooking Casing:
A manufactured, non-edible product. Commonly used for cold cuts, a sausage in this type of casing is cooked in water. Cooking Casing is not air or smoke permeable so it's not a popular choice for hunter's looking to make smoked sausage.
Not sure what type of casing is best for the type of sausage you'd like to make? No problem! Our knowledgeable staff is here to help and just a phone call away – Toll free: 1-877-736-7287 or sign up for a sausage making class in Calgary and learn everything you need to know about the process!
Tie a knot on one end of the sausage casing.
Start at one end and pinch casing between thumb and finger using both hands, twist link away from yourself.
Continue in the same fashion, pinching the sausage casing with both hands, except this time twist the link between your hands towards yourself.
Continue twisting every other link in the opposite direction as the preceding twist until the end of the sausage casing is reached.
Cook immediately or package and freeze.
less...