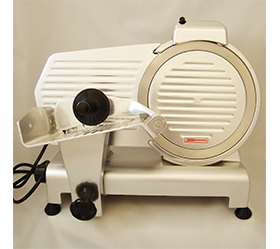 Meat Slicers
Meat Slicers for Sale in Canada
Whether you're makin' bacon or prepping meat for jerky, you're going to want an electric slicer to get the job done right. High Caliber offers a commercial grade 10" blade slicer that ensures you can handle those bigger chunks of meat. If you're considering an electric meat slicer for home processing, you can save a lot of money if you put it to use for slicing up your own deli-style meat and cheeses. Big roasts can easily be cut into steaks, which can translate to as much as half the cost!Perfect for home-butchers and hunters looking for speed and reliability, our heavy-duty meat slicers are also ideal for an amateur chef to provide the flexibility to slice any type of boneless, tempered meat.
Tips for choosing a meat slicer:
more...
Make sure the motor is up to the job. If you go with a budget model and the motor is too small, it will struggle with some of your bigger jobs.
A sturdy, solid unit will ensure that the slicer isn't moving or slipping which is imperative to safety.
Look for a die-cast aluminum base that will not pit or rust.
A unit that comes with a sharpener for long lasting performance.
Select a model that offers local service and technical support.
Safety tips for operating your meat slicer:
Always read and follow the care and operating instructions contained in your product manual.
Wear cut-resistant gloves.
Keep your area clean and tidy.
Do not reach across your meat slicer when it is in use.
Use a meat tamper or food pusher to feed the machine, never push it in with your hands.
Always lock your blade and unplug from power for cleaning and storage when not in use.
Related products you may need:
Considering a meat slicer but not sure what horsepower or size of blade you should invest in? High Caliber's knowledgeable, friendly staff is just a phone call away, toll free at 1-877-736-7287. Or visit our showroom in Calgary or Edmonton to compare products.

less...