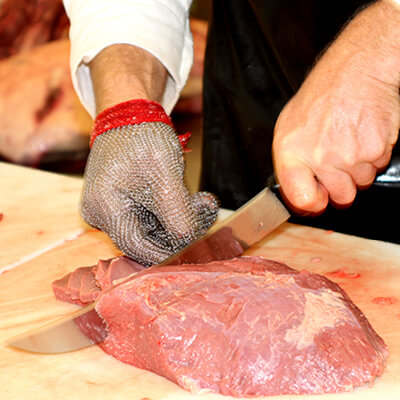 Knives & Accessories
Hunter, Butcher, Boning Knives & Knife Kits for Sale in Canada
A hunter's best tool is his knife. You have come to the right place for a comprehensive selection of quality, well-priced hunter and butcher knives, steels, sharpeners and accessories from the brand names you know and love such as J.A. Henckels and Victorinox.
Makers of the Original Swiss Army Knife, Victorinox touts itself as the "proud companion for your life" and provides essential tools their clients can rely on. We carry a great selection of Victorinox knives, shears, steels and more. We've narrowed down their product line to the best of the best for the butcher, hunter or chef in your life.
Our extensive line of Zwilling J.A. Henckels products includes knives for hunter, butchers and amateur chefs alike. For complete sets, you'll want to check out their knife kits and sets, a great way to get a variety of quality knives at an affordable price.
We also carry scabbards, bone dusters, knife holders, cleavers, chains and tenderizers. If you've got the meat, we've got the knives and accessories you need to achieve ideal cuts and results. Don't forget to check out our line of sharpeners, stones and steels to keep those blades in top-notch condition
How to properly care for your knives:
more...
Never leave your knife in the sink. Not only can it become damaged, it poses a safety issue. When you're done with your knife you need to wash it, dry it and put it away.
Always wash your knives by hand; blades can become damaged in the wash cycle of your dishwasher.
Do not cut on hard surfaces like your granite countertop; always use a cutting board.
Store your knives in their case or purchase a knife sheath to protect the blade.
Perform regular maintenance by sharpening your knife using a knife stone or a honing steel.
Tips for choosing a quality knife:
The best knives are made from a single piece of steel. Avoid knives with joins or welds, as these are weak and likely to break.
Check for balance between the weight of the blade and the handle.
Ensure a good fit. This will be a personal preference; a good knife for you will be comfortable in hand.
Look for blades, which are constructed from high carbon, stainless steel that has undergone cryogenic tempering.
Related products you may need:
Butcher Paper & Freezer Wrap Paper Meat Packaging. Poly bags, vacuum bags, freezer bags, plastic wrap and more – everything you need for keeping food fresh longer. We have dispensers, tape, twine, gloves – we even have twist ties!
Spices, Cures & Additives. Whether you are making a trusted traditional recipe or a new creation, we have a tasty selection of pre-blended sausage seasonings, pure spices and additives to ensure great results.
Jerky Shooters, Grates and Cutting Boards. And everything you need to make your favorite jerky!
If you want quality knives and accessories at great prices, sign up for our monthly newsletter and be the first to know when the brands you love are on sale!

less...