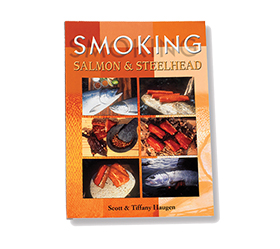 Recipe Books
Wild Game, Fish & Meat Recipe Books for Butchers, Hunters & More for Sale in Canada
So you're looking to dabble in some old school methods of meat preservation but you're feeling at a loss. Somehow your Baba's canning methods were never written down, or maybe Great Grandpa's secret Old World Polish Sausage Recipe went with him to the grave. A generation of processed meats later, you're looking to get back to a more natural, healthier way of feeding your family but sometimes it's hard to know where to start. Well we hear you and we've done the research for you. We've complied a full inventory of recipe books and cookbooks for the hunters and butchers in your household.
From learning how to make sausage with our most popular sausage cookbook to books on butchering, hunter cookbooks and wild game recipes, cooking with wild meat to smoked fish, the family will love, we've got a shortlist of the best recipe and "how to" books to get you started. High Caliber even carries the equipment and supplies to help you achieve your home processing and preservation goals. Canning meat, making sausage and the fine art of smoking have never been so easy!
Our selection of cookbooks offers up easy to read, to the point recipes, tips and advice that make sense to the Alberta outdoorsmen, butcher, hunter, gardener or hobby sausage maker.
Featuring titles such as:

more...
Bradley's book of Smoking Recipes
Marianski's "Meat Smoking & Smokehouse Design"
Mettler's "Basic Butchering of Livestock & Game"
Radford's "Fish & Wild Game Recipes"
Haugen's "Smoking Salmon & Steelhead"
Of course we do also have a plethora of free information to help get you started. Visit High Caliber's website and load up on tips and tricks of the trade:
Check out our blog for recipes and expert tips
Download our Sausage Making Cheatsheet and get a head start on your home processing
Check out our Spice Calculator, a free online tool that takes the math out of your measuring
Or take advantage of High Caliber's Recipe Cards, complete directions on your family favourites such as Bratwurst, Breakfast Sausage, Farmer Style Sausage, Italian, Maple and more!
We love gathering and sharing recipes. Click here and drop us a line with your family favourite. Who knows, you might just be featured in our next newsletter!

less...