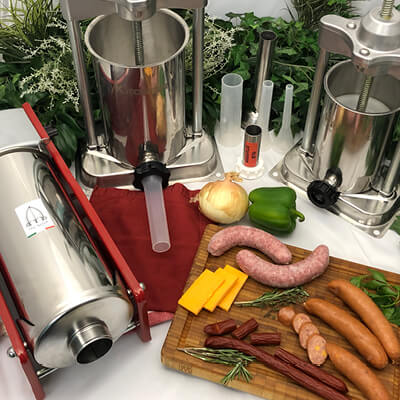 Sausage Stuffers
Sausage Stuffers for Sale in Canada
For the hobbyist sausage-maker, if you're doing it yourself you're going to want the equipment to do it right. We have a selection of sausage stuffers to suit a range of customers from the once-a-year hunter to the more enthusiastic hot doggers in the crowd, we've got the tools for you! Make short work of your wurst, frankfurters, pepperoni and kielbasa. And don't forget to check out our line of tubes and accessories while you're at it.
Weekend warriors will love our High Caliber 5 lb sausage stuffer. Produce perfect sausages easily and yield the best appearance and "bite". This convenient small capacity meat stuffer is ideal for sausage artists, small batches or newcomers to the hobby. If you've been stuffin' for a while and you're ready to upgrade, we've got bigger "stuff" for you too! Check out our 20 lb sausage stuffer or full-line of our line of Trespade Stuffers. These sleek units are built for serious sausage production. Heavy-duty gears process any type of sausage smoothly and efficiently.
We carry a complete line of accessories and tubes, get the sizes you need for making smaller caliber sausage like pepperoni and breakfast links.
Browse the site or call and ask us about these related items:
more...
If sausage making is new to you, you're going to want to bookmark our website. "Stuffed" full with tips and tricks compiled by those in the know, it contains hands-on useful resources like:
We are Alberta's source for one stop shopping when it comes to butcher and hunter supplies.
Visit us at one of our stores in Edmonton or Calgary or give our knowledgeable staff a call. During store hours, feel free to call and ask questions and even order over the phone! What are you waiting for? Even the call is free, 1-877-736-7287.

less...