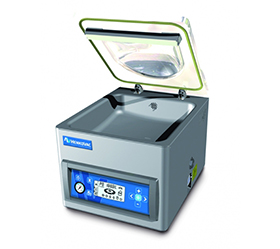 Vacuum & Sealing Machines
Commercial Vacuum Sealing Machines – Henkovac & More for Sale in Canada
When it comes time to seal the deal, you need to be assured that the job is airtight and your hard work is preserved. Vacuum sealing is a very affordable procedure for preserving food. The low cost of packaging material, short process times and a relatively low investment for long-lasting equipment makes vacuum packing by far the most economical and most efficient way of packaging perishable food products.
Henkovac's vacuum packaging line offers a full range of heavy-duty vacuum packaging machines that are reliable, durable and easy to clean. Machines range from Basic user-friendly models to more Professional advanced machines. The more deluxe models include intuitive digital control unit detects automatically the optimum vacuum level for products with high moisture content, preventing moisture to be evaporated out of the product. With an ingenious redesign focused on serviceability, Henkovac sets the new benchmark for quality and design in the industry once again.
Why use a vacuum sealer?
more...
Extends shelf-life
Ensures quality
Prevents products from drying out
Protects it from outside influences
Improves hygienic handling
Cost effective
Results are compact and easy to store
Convenience of portioning
Some of the exceptional features of the Henkovac Commercial Vacuum Packaging Machines are:
Transparent cover to view operations
Stainless Steel Chamber for durability and ease of cleaning
Digital Time Control options
Smaller machines have control unit with basic settings for vacuum and time
Professional machines come equipped with 10 Program Control Units, with optional sensor control, gas flush, and vacuum pump sizes available
Choice of Seal Bar configurations on larger machines
Local technical support and service
Easy to maintain and service
Other uses for your vacuum packaging machine might include:
Creating water-proof pouches for money, ID docs, maps, etc. for hiking, camping or traveling
Preserving important documents, photos and collectibles (seal only; skip vacuuming process to avoid transfer to the plastic)
Making your own ice packs
Storing linens, space saving and moth ball free
Protecting delicate products like electronics or sterilized products
Related products you may need:
Spices, Cures & Additives. Whether you are making a trusted traditional recipe or a new creation, we have a tasty selection of pre-blended sausage seasonings, pure spices and additives to ensure great results.
Meat Lug Containers and Dollies. Carts, lugs and lids – we have the container you need and the quality you require.
Hunter, Butcher & Boning Knives & Knife Kits. For avid hunters, butchers, fisherman and novice to expert chefs, our knife selection are sure to please.
Assorted Sizes of Vacuum Bags. It's likely you will make good use of your new vacuum packaging machine and we can be your trusted source when it comes time to replenish your vacuum bags stocks.
Portion Scales. Sell or store your perishable food products in serving sizes for an easy way to make sure you are preparing just enough for your needs, especially if you are cooking for an army of ten or one!
Did you know that you can order over the phone? This is great if you have questions! High Caliber's friendly staff is just a phone call away, toll free at 1-877-736-7287. Or visit our locations in Calgary or Edmonton to compare products.

less