Why is dehydrating your jerky so important?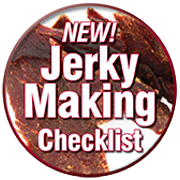 For one, dehydrating the jerky helps us to concentrate the flavor. And as we all know, jerky is all about the flavor! The second reason is that bacteria needs water to live, which is why removing the water from the food is important.
How does dehydration work?
Most people assume that dehydration takes heat because we automatically think of all the dehydrated and hallucinating characters manning it through the desert in the movies. It is actually low humidity, not heat, that is the driving force behind dehydration. Heat surrounding the food will keep it dry, but if the air doesn't move, neither will the water. That is why circulation in the process of dehydrating the food is so important.