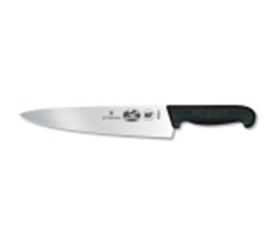 Victorinox
Victorinox Hunter & Butcher Knives & Knife Kits for Sale in Canada
Remember when you were a kid and the coolest thing to have was a Swiss Army Knife? Likely it was your most prized possession and even more likely you still have it today. Best known as the maker of the Swiss Army Knife, Victorinox has capitalized on its functionality, quality and innovative design to expand into other product categories including household and professional butcher and hunting knives. The Victorinox line of cutlery means that you always have the right tool at hand. They pride themselves on knives that are ergonomically designed and exceptionally sharp.
Touting itself as the "proud companion for your life", Victorinox provides essential tools their clients can rely on. We carry a great selection of Victorinox knives, steels, shears, guards and more. We bring to you their product line, the best of the best for the hunter, butcher or chef in your life.
Our line of Victorinox knives and products includes:
more...
Victorinox Boning Knives
Victorinox Paring Knives
Victorinox Bread Knives
Victorinox Butcher Knives
Victorinox Chef's Knives
Victorinox Fillet Knives
Victorinox Santoku Knives
Victorinox Poultry Knives
Victorinox Scimitar Knives
Victorinox Skinning Knives
Victorinox Slicers
Victorinox Poultry Shears
Victorinox Round or Oval Steels
Victorinox Bladesafe Knife Guards
Not Sure What Victorinox Knife You Need?
Here are some commonly asked questions when choosing the best Victorinox knife for the job.
What is a Santoku knife?
A Santoku knife is a general-purpose kitchen knife originating in Japan, with a blade that is between 13 and 20 centimetres long. It features a flat edge and a special blade. The top of the handle aligns with the top of the blade. The word "Santoku" comes from the three main cutting tasks the knife can best perform: slicing, dicing and mincing. Its handle and blade are designed to work in harmony; the original Japanese Santoku is a well-balanced knife.
When would I use a Scimitar Knife?
A scimitar (also known as a cimeter) is a large, curved butcher's knife, with a blade that is 20 to 35 centimetres in length. It is most commonly used for cutting large pieces of meat into choice cuts such as steaks. Victorinox Scimitar Knives feature a Granton edge, meaning that there are hollowed out sections running along both sides of the blade allowing grooves to fill with fat and juices thereby permitting more contact between the blade and the meat. When slicing thin portions of roast, poultry or ham, Granton edge knives are often preferred.
Still have questions about Victorinox Knives? Drop by one of our stores in Calgary or Edmonton or give our knowledgeable staff a call and order over the phone! Call us toll free at 1-877-736-7287.

less...