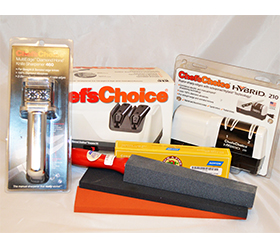 Sharpeners & Stones
Butcher & Hunting Knife Sharpeners & Sharpening Stones for Sale in Canada
Once you've made the decision to invest in quality knives, you're going to want to invest in a quality knife sharpener or stone. A sharp blade is imperative to the discerning hunter, chef or butcher. Quality cuts begin with quality blades, maintain their integrity with one of our top rated knife sharpeners.
From kitchen sharpeners to commercial grade knife sharpeners to pocket knife sharpeners, we have a product to suit your needs. From files, to stones to electric hybrid technology, we carry the knife sharpener that will keep your knives in tip top condition with razor sharp edges. Featuring the brands you know and trust, we stock quality sharpeners from Chef's Choice, Norton and Sun Tiger.
Ways to sharpen your knives include:
more...
Whetstone Method – the sharpener uses a freehand technique to sharpen the knife on water stones.
Knife Sharpening System – such as our multi oil stone set from Norton.
Electric Knife Sharpeners – such as our Diamond Commercial Sharpener by Chef's Choice.
Other knife sharpening devices – files, belt sharpeners and wheels.
Reasons why dull knives are dangerous:
Dull knives require more passes through the food; more cuts means more chance for error.
Dull knives have a higher chance of slipping.
How to tell if your knife requires sharpening:
Find a food item with a smooth, slick surface such as a green apple or an onion with the peel attached.
Bring the blade of the knife down in a smooth, gentle movement.
If the knife rolls off, or you require pressure or sawing motion to pierce the apple or onion, your knife is too dull.
Want more information? Check out our blog on Knife Sharpening, Tools for your Tools. Or give us a call and ask about our knife sharpening solutions and systems; we can help you find the best one for your home or commercial kitchen needs. Phone 1-877-736-7287.

less...