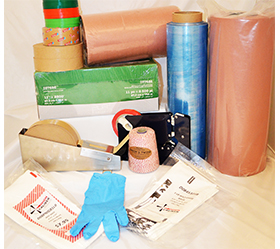 Butcher Paper & Packaging
Butcher Paper & Freezer Wrap Paper Meat Packaging for Sale in Canada
As fellow Canucks, we know about freezer burn and the importance of quality products to keep out the cold. Well, you know what they say, you gotta wrap it right to ensure protection. We know you worked hard on those custom creations, so that's why we carry quality freezer wrap paper, freezer bags, freezer tape and butcher twine. We are a one-stop shop for your meat packaging needs.
If you're an old pro, you'll love our online ordering system. Buy freezer paper, freezer bags, tape and more through our online store. With delivery across Canada, we've got you covered, no pun intended. Our commercial grade butcher paper, freezer wrap and other meat packaging products are suited for the quality requirements of butchers, supermarkets, commercial processors and packers, caterers, restaurant owners and delis. And, of course, our "dear" hunters that work so hard for their meat!
Things to look for when sourcing quality freezer wrap products are:
more...
Materials that are airtight when properly sealed
Moisture / vapour-resistant (poly coating)
Durable and able to withstand cold temperatures
Odourless and tasteless
Easy to handle, seal, label, stack and take as little room as possible
Butcher paper should have one side lined with plastic
Tips for making the most of your freezer wrap paper and butcher paper:
Done properly, freezer paper is used to wrap fresh cuts of meat that can be stored in the freezer for up to 12 months.
Freezer paper can also be useful for wrapping anything from hamburgers to juicy sandwiches!
Freezer paper keeps your products fresh and contains the mess.
Never use a frost-free freezer for long-term meat storage, your meat will dehydrate.
Related products you may need during the meat packaging process:
Nitrile gloves are comfortable and extremely durable. Because nitrile gloves resist breakdown caused by raw meats and oils, use them when working with raw meats and poultry. Nitrile gloves have better chemical resistance than latex and vinyl.
Latex gloves provide the best barrier protection. Ultra-formfitting and comfortable, they offer reduced hand fatigue when performing tasks requiring ultimate dexterity.
Still not sure what you need? Our knowledgeable staff is just a phone call away, toll free at 1-877-736-7287.
Of course, you can always drop by one of our convenient locations in Calgary or Edmonton. We can find the meat packaging products that are perfect for you. All of our freezer wrap products are in stock and ideal for everyone from sausage hobbyists looking to preserve their masterpiece to butchers that know you can never compromise on quality where freshness is concerned.

less...